August 20th, 2011


Dear Partners and Friends,


We're pleased to announce that the final component of the era404 rebranding (era404 Creative Group Rebranding, January 1, 2011) is finally complete: the 2011 Creative Reel. This 3-minute video, which showcases highlighted work from our first decade in business (era404: Celebrating 10 Years), was created to incorporate our new identity and illustrate case studies of era404 as a multidisciplinary studio.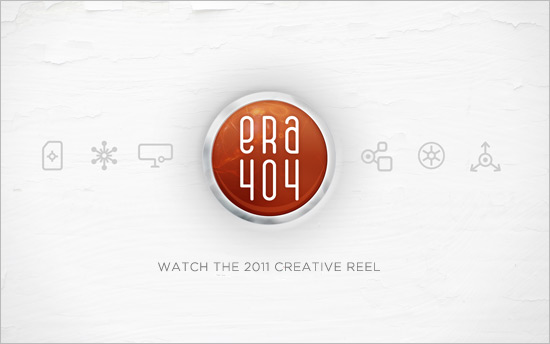 Why the new look?
In the past, we've heard more often than we care to admit, something to the effect of this:

Our new identity design is great!
It's a shame you don't do web design
and development too. It'd be great to
work with you again.


*face palm*

But we have no one to blame for this oversight but ourselves. Branding a company—particularly with a name based on esoteric, deprecated internet puns—goes a long way to communicate the type of work you offer. In fact, most agencies have relied on acronyms, surnames or innocuous, unrelated words (like "Purple," "Mango," "Bodacious") to not pigeonhole themselves into one discipline of work. And after ten years, we decided to strip the slashes from our name, drop the dot-com era color palette and redesign our brand to focus on the disciplines we've been offering clients for the past decade.


More information about the redesign can be found in era404 Creative Director, Don Citarella's, blog at:
http://don.citarella.net/

Moving Forward
We've come a long way from simply providing à la carte services in 2001. Our greatest joy has been maintaining long-term relationships with clients to help strategize and facilitate the changing needs of their businesses. We would love to continue providing multi-disciplinary design and development services with these, and new partnerships, through our second decade here in New York City.
If you'd like to receive a DVD of our work in the mail, drop us a line. If you've worked with us in the past and are interested in learning how we can help with other facets of design, development and strategy, let's get an iced coffee sometime. If you were forwarded this newsletter from a friend or current client of ours, we'd love to hear from you too.
Thank You
We hope you enjoy our 2011 Creative Reel and would love to answer any questions you might have about the types of services we provide. For the past decade, we've had the opportunity to collaborate with some amazing people and produce outstanding work together. Thank you for your continued interest and we are very proud to share with you our accomplishments.


Sincerely,
era404 Creative Group