ERA404 Creative Group Rebranding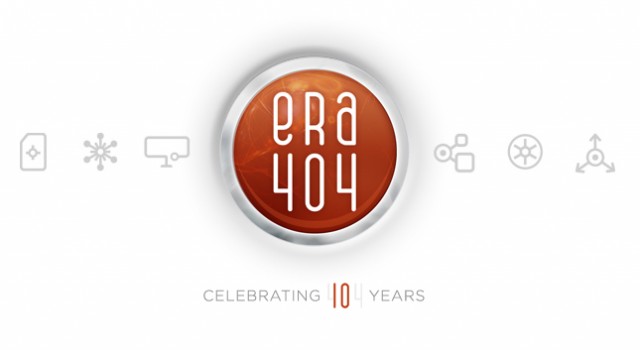 Commemorating Their 10-Year Anniversary, ERA404 Gets a New Identity
ERA404 Creative Group, a long-standing creative studio based in New York City, is unveiling the company's new corporate identity this quarter. ERA404 (formerly era//404) has made the choice to update their 10-year-old mark, its supplemental iconography and palette, even the company name.
"Over the decade, our involvement with projects has grown. Clients are bringing us in to consult on strategy, research and discovery rather than simply implementation of design and development," says Don Citarella, Creative Director of ERA404. "We're pleased to continue these strategic partnerships to clients who are seeking our experience for bigger picture initiatives, as well as the finer details that we've always administered."
The new branding and identity system are inspired by changes in the diversity of the services, which once concentrated primarily on web and new media design. The familiar "double-backslash" from the logotype has been removed, a reflection of the evolution of the brand to one of broader scope.
"Over the last few years our clients have been partnering with ERA404 to do more and more. Our core services—creative design and embracing technologies—remain at the heart of our work, but growing to encompass higher level initiatives—strategy, market concepting, producing, and so on—has helped solve our clients' needs while giving us another edge where we can stand part," says ERA404 Technical Director, Mike Citarella.
"If our clients are fans of the past brand, we hope they'll find the same familiarity with the one we're releasing this quarter. If anything, it was a response to their growing needs from ERA404, as a preferred creative and technology partner, that fostered the need for this rebrand," Don says.
ERA404 will also be launching a new video reel and site in the near future, featuring current work ranging from print, web and application design, to motion graphics, event production, environmental design, and others.
Recommended Links
If you wish to contact ERA404 with feedback about the new brand, please visit the company's website at: www.era404.com.
Permalink: https://www.era404.com/press/era404-creative-group-rebranding/