ERA404 Helps Vessel Crew Become a Little More Social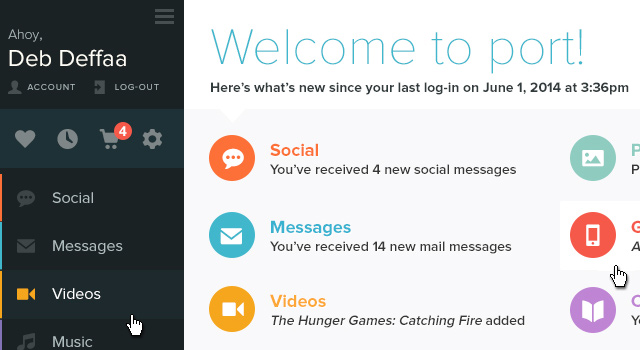 NEW YORK—This summer, Deb Deffaa of Trident Networks contacted ERA404 with an idea to bring the world of social networking to the crew of seafaring vessels. And while the logistics seemed mind-boggling, the idea sounded more than intriguing.
In 2011, the 360 commercial ports of America, alone, took-in goods worth $1.73 trillion. There are more than 100,000 ships at sea, carrying between 12 and 110 crew members. Each laborer signs-on for contracts lasting 4-6 months. And while many of the sailors have families at home—be it Germany, Panama, The Philippines, or somewhere in between—they need to keep in touch with expensive satellite phone calls and with limited access to email. Shore-leave time dwindles at just a few hours, giving them little ability to even set foot in the countries where they deliver their precious cargo. And their view through a porthole window always replays the same footage of the middle of the ocean.
Ms. Deffaa imagined creating a high-performance, low-bandwidth communications network that could transmit and receive data through satellites to give these sailors access to programming, products, services, and most importantly, social media. That's where ERA404 came in.
"We had to completely rethink how the dataflow could operate," said Technical Director, Mike Citarella. "As data packages for satellites are expensive, it meant we needed to evaluate every byte we transferred—optimizing, compiling, and compressing each payload."
In May, Trident Networks hired ERA404 to scope the entire project and draft the initial database architecture for what would soon be called Seamate. A project's scope is a finely granular blueprint that incorporates every function, every screen, even every checkbox in the project. ERA404 then uses this scope to develop a strategy for the project's execution.
"We worked with Ms. Deffaa over a period of six weeks and ultimately created a massive checklist of all the design, development, and infrastructure that would be needed to bring her idea to life," said Citarella.
Following the concepting of the back-end architecture, Trident returned to ERA404 to assist with front-end strategy and design.
"We liked their portfolio of work," said Deffaa. "As opposed to other studios we evaluated, ERA404's approach seemed innovative and pushed the envelope to create original, inviting experiences."
Seamate v1.0 would incorporate eight different sections, including: Social, Messages, Videos, Music, Pictures, Games, Cards and an online ecommerce system. ERA404 worked with Trident to create the strategic user interface/experience (Strategic UI/UX) and design the interface (Creative UI/UX) for all eight sections. Working closely with Trident's team of developers, ERA404 worked through the scope to build-out the Social section, complete with instant messaging, jobs and status updates.
"We looked at the things that popular social networks were doing well and thought about how our audience could benefit from each of these, with the restrictions of limited satellite data in mind," said Citarella.
"Part of the uniqueness for this project," said Creative Director, Don Citarella, "is that in each vessel in the entire fleet, crew members could speak dozens of different languages. And while they're highly skilled at their jobs, we needed to think about proficiency in technology and limitations in access devices, too."
Seamate, which is uniquely designed for worksites where traditional communication is limited, also incorporates a land-based component, whereby families, colleagues, and friends of the crew are given the same social interfaces. "We're building bridges across oceans."
The resulting interface incorporates clean, fluid, modular design that color-coded iconography for each of the sections of Seamate. System messages are coded through language files with international web fonts and scalable dimensions and resolutions. As each user connects to the system, it customizes itself based on their devices and their preferences.
"We knew [ERA404] was meticulous in how they scoped the product, but were pleasantly surprised at the level of detail that went into each step of the process, from strategy to launch," said Deffaa. "More importantly, there was always an open, consistent dialogue between them and our team, to ensure we were all acting as one mind to create the best possible product. They talked ones and zeros with our coders, high-level strategy with our management, and creative and commercial thinking with our sales and marketing team. This caliber of communication made the whole process enjoyable and helped us to create a cohesive, polished product."
"Deb's great," said Don Citarella. "Trident's ambition and openness to new innovations and design ideas really makes them the ideal client. And when you have that kind of synergy, you can see it in the smoothness of the process and the quality of the work. Plus, we had time to dish about Game of Thrones at the end of the calls."
ERA404 has signed a retainer to work with Trident through the development of Seamate's marketing and promotional campaigns and a host of new features for v1.1.
So would Trident Networks recommend working with ERA404? "Absolutely," said Deffaa. "Just wait until I'm done with them."
Recommended Links
Permalink: https://www.era404.com/press/seamate-social/