Google Author and Publisher Tags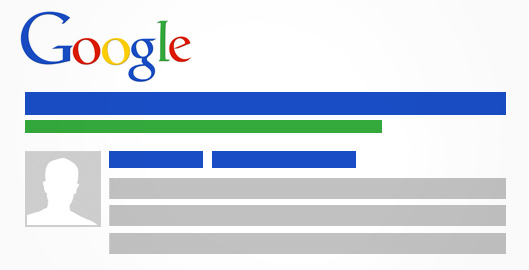 Google is piloting the index of author and publisher information in search results to help users discover content created by you on the various blogs and news sites on which you contribute. Adding an "author" tag to your blogs and news articles, or a "publisher" tag to your corporate news articles, press releases, and informational resources (such as this one) can help link users to additional articles on your site, or other sites, which you've written. The advantages to these new tags are apparent, especially considering how easy they are to implement.

1. Google Author Tag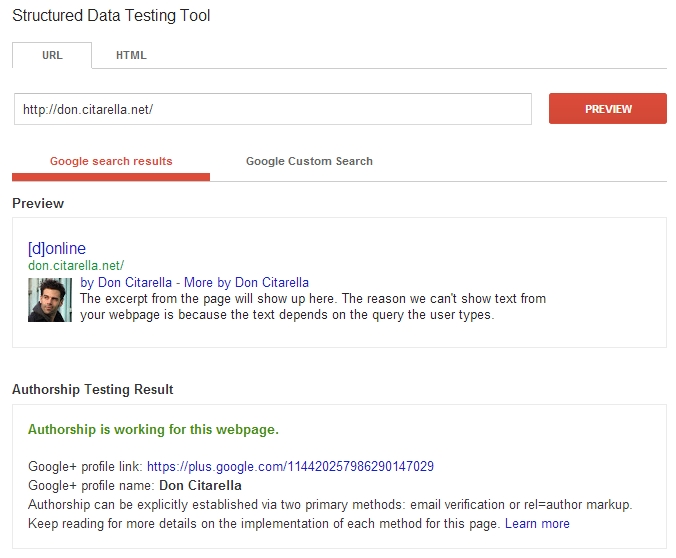 If you want your authorship information to appear in search results for the content you create, you'll need a Google+ Profile with a good, recognizable head-shot as your profile photo. Then, verify authorship of your content by associating it with your profile using either of the methods below. Google doesn't guarantee to show author information in Google Web Search or Google News results and it could take anywhere from two weeks to three months before these pages are indexed and returned among results.
Option 1: Link your content to your Google+ profile using a verified email address.
Don't have an email address on the same domain as your content? Follow the instructions listed in Option 2 below.
Check that you have a email address (for example, don@mypersonalwebpage.com) on the same domain as your content (mypersonalwebpage.com).
Make sure that each article or post you publish on that domain has a clear byline identifying you as the author (for example, "By Don Citarella" or "Author: Don Citarella").
Visit the Authorship page and submit your email address to Google. No matter how many articles or posts you publish on this domain, you only need to do this process once. Your email will appear in the Contributor to section of your Google+ profile. If you want to keep your email private, change the visibility of your link.
To see what author data Google can extract from your page, use the structured data testing tool.
Option 2: Set up authorship by linking your content to your Google+ profile
Create a link to your Google+ profile from your webpage, like this:

  

Replace [profile_url] with the your Google+ profile URL, like this:

  

Your link must contain the ?rel=author parameter. If it's missing, Google won't be able to associate your content with your Google+ profile.

Add a reciprocal link back from your profile to the site(s) you just updated.

Edit the Contributor To section.
In the dialog that appears, click Add custom link, and then enter the website URL.
If you want, click the drop-down list to specify who can see the link.
Click Save.

To see what author data Google can extract from your page, use the structured data testing tool.
If you don't want your authorship information to appear in search results, edit your profile (using http://plus.google.com/me/about/edit), and make sure the Profile discovery option Help others discover my profile in search results is unchecked.
2. Google Publisher Tag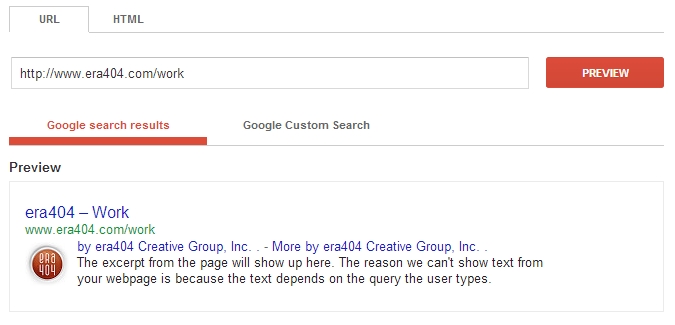 Google+ Pages provides businesses, products, brands, entertainment and organizations with an identity and presence on Google+.
If you've created a Google+ page, they strongly recommend linking from that page to your website and vice versa. Linking your Google+ page and your site not only helps you build credibility (and readership) with friends and followers, but also gives Google information they can use to determine the relevancy of your site to a user query in Google Web Search. It also makes your site eligible for Google+ Direct Connect.
Link your Google+ page and your website
Make sure that your site's home page is available to appear in Google's search results and isn't blocked by a meta noindex tag or by your robots.txt file. (Verify by doing a site:search for your domain, like this: [site:example.com]. You can also use the Fetch As Google tool to see your page exactly as Google sees it.)
Update your site's home page by adding a link to your Google+ page, like this:

To find your page URL, open your page and copy the web address from the browser address bar.

It's best to add the link to your most significant page. Usually (but not always) this is your home page; for example, if you've created a page for a product, you can add the link to the product description page.

Link to your website from your Google+ page's profile. To edit your page profile:

Make sure you're on the Google+ page you'd like to edit.
Click the profile icon .
Click Edit Profile.
Click Website. You'll know it's editable when the color of the section changes to blue.
Type your homepage URL. This should match exactly the URL of the page to which you added your Google+ page link in step 1.
Click Save.

(Optional) Verify your business or brand with Google.
Use the rich snippets testing tool to check your markup and make sure that Google can extract your page information from your content. This tool will display the markup found on a specific web page, as well as a preview of how that page might appear in Google search results. Learn more.
Permalink: https://www.era404.com/info/google-author-and-publisher-tags/