When an article is published in WordPress, it could likely appear across several of the internal templates, besides just the single post page. For example, you may see "Recent Articles" on the home page sidebar or footer, "Related Articles" at the bottom of other posts, and "Search Results" may show excerpts with thumbnails to help readers to quickly find relevant results. These other applications of featured images not only direct readers to the freshest content, but they also notify search indexers of changes to a WordPress sitemap. This boosts the credibility of the site and its author by showing that the site is maintained and current, and offering cross-links to promote relevance.
Why CropRefine?
When content creators select a featured image for these articles, WordPress's media manager is suitably adept at uploading the image and preparing several sizes for placement into the various templates. When the theme is built, the designer and developer pre-set these image sizes. WordPress quickly scales each uploaded image to serve only as large of an image as is needed—whether it be a thumbnail in a sidebar or a full-page poster. Typically, you have two options: crop or resize (and sometimes distort) to the new dimensions.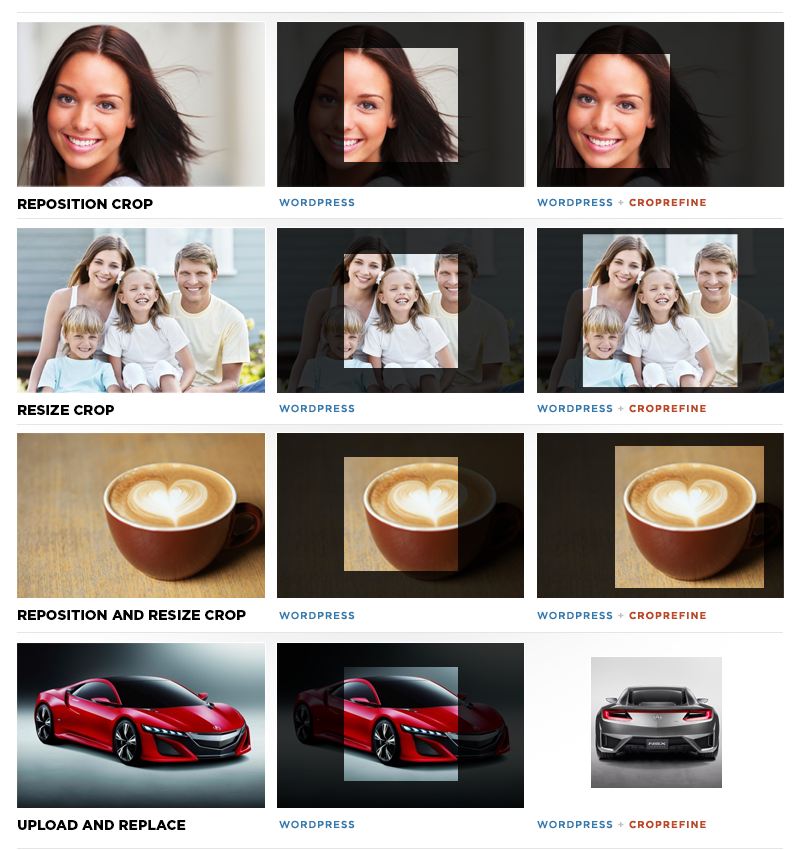 But site owners that wish to have greater control have suffered this shortcoming of the media manager: There was no tool provided to refine how the image was to be cropped at these individual crop sizes.
How It Works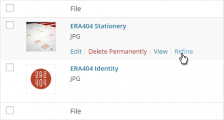 CropRefine is the latest WordPress plugin by ERA404, developed to solve this shortcoming by giving the control back to the more graphically inclined content creator. It extends the native media manager by adding a new button below each uploaded image called "Refine."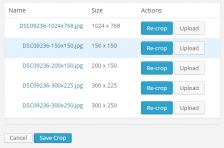 Clicking this button presents a toolbox for reviewing each of the prepared image sizes for that asset, and provides an interface for individual adjustment. There are two options, currently: re-crop, and replace.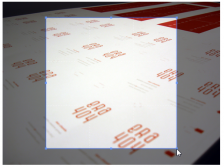 Re-crop allows the site owner to choose which section of the originally uploaded image to be used for that particular image size. If it's a thumbnail that's being refined, they are now able to zero-in on the most iconic piece of the larger image, one that best represents the image at a smaller size. Once this crop has been personalized, it will replace all instances of that size image in whichever template it's used on the site.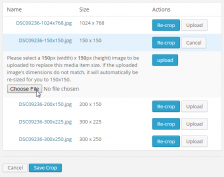 Replace is used when a new crop isn't personalized enough for that image size, but an author wishes to upload a new image altogether, to be used in its place. In these circumstances, a quick-upload field is provided to replace that image size, but leave the other sizes unchanged.
After all of the sizes have been refined, users can efficiently hover to review the changes that were made. Future releases of the CropRefine plugin will provide an iterative rollback feature, to restore earlier crops and uploads for each image that's been refined.
Install ERA404 CropRefine WordPress Plugin (wordpress.org)
---
Other Plugins by ERA404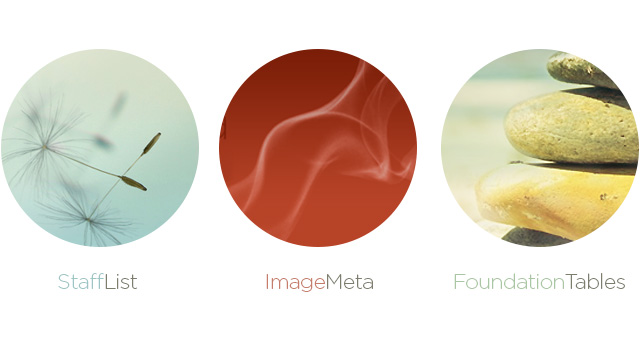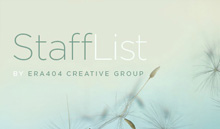 Corporate communications can be routed via subject or department in the out-of-the-box contact form feature of a public web presense. On the internal side, where phone extensions, department heads, technical facilities or email addresses may be referenced for daily business interactions, wouldn't it be handy to have a means of maintaining a staff directory without revising and republishing a full table of contact records?
StaffList is described on WordPress Plugins as: a very light-weight plugin, designed to easily create and manage a staff directory on your WordPress theme. Backend management for add/edit/remove staff records, and front end table with sort by Last Name, First Name, or Directory. Table is paginated and searchable. If this plugin will enhance your own intranet or cut way back on the time required to manage this directory, give StaffList a try.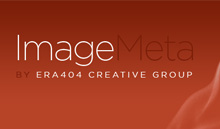 Search Engine Optimization (or SEO), has been a heavily scrutinized task by individuals responsible for marketing, brand awareness, and sales departements. It is one of the answers to the question 'How do my buyers find my product?', and an often challenging task among a world wide web of billions of sites. A large component of SEO success is attributed to Metadata (or 'data about data,' as it's described by Wikipedia). Attributing additional properties to your website imagery (such as titles, captions or descriptions), even if they're unseen by your site visitors, can be an upperhand in your search engine ranking.
Managing your metadata for all of your site's media can be an arduous task, as the core offers a catalog of images, but requires grooming these properties one-by-one. ImageMeta was developed to condense this task into a single repository whereby all values can be articulated, cleaned, and refined. ImageMeta also optimizes this task by giving controls to duplicate these values to other related meta elements for each image, cutting down the repetition, and making the undertaking a little less daunting. Among the newer features of this plugin, was one for house-keeping: ImageMeta also provides visual indicators of images that may be outdated or no longer necessary, easily linking users to pages where they're featured or embedded, or to the WordPress media manager, for images that are no longer in use.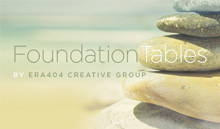 Succeeding the popularity of Zurb's famous framework, FoundationTables is a WordPress plugin written by ERA404 to harness the responsiveness the framework provides, and extend the WordPress page editor with a new toolset to easily insert, edit, style and delete Foundation-ready tables.
ERA404 encoders and developers wrote the plugin after several clients with WordPress sites requested easily editable tabled data. Previously, no core toolset existed to both build these collections of information and publish them responsively. With theFoundationTables plugin, users can now take advantage of Foundation's responsiveness for different screen sizes and devices, such as stacking data to fit the width of the narrower window of a mobile phone. FoundationTables comes pre-packaged withseveral design styles, but a separate CSS is also included for unobstructed custom theming. If your website uses a Foundation template, consider FoundationTables to be your solution for quickly and customarily inserting your tabled information.
---
Further Reading
ERA404 has been working with WordPress since its beginnings. We recognized this potential not only by tech-savvy contributive network and platform flexibility, but judged purely by prospect inquiry alone. The awareness of WordPress's ease of use and diverse application has paved the way for it to be the preferred platform for site upgrades and new builds, alike.
Read more…
For the last decade, ERA404 has been developing comprehensive Content Management Systems (CMS) for clients seeking the ability to easily and regularly manage their own site content, without developer intervention or maintenance contracts. Over the past five years, however, our recommendations have leaned more and more toward WordPress, the free, open-source blogging system that has competed against Google's Blogger, SquareSpace and Moveable Type. In fact, ERA404 even retired our own home-grown ERA404 CMS product, which couldn't compete with the thousands of free, user-submitted enhancement plug-ins and templates from the WordPress development community.
Read more…