23 Tips for Optimizing a Blog's Google Sitelinks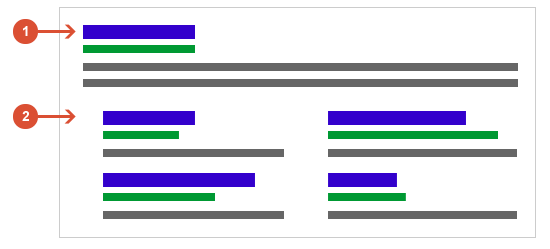 What are Sitelinks?
The links shown below some of Google's search results (1), called sitelinks (2), are meant to help users navigate sites. Indexing is the process by which search providers scan websites to extract the information that may be potentially searched by users to properly organize each site among relevent results. Google's indexer analyzes the link structure of each site to find shortcuts that will save users time and allow them to quickly find the information they're searching.
Google only shows sitelinks for results when they think they'll be useful to the user. If the structure of the site doesn't allow their algorithms to find good sitelinks, or they don't think that the sitelinks for the site are relevant for the user's query, Google won't show them. At the moment, sitelinks are automated, but there are best practices site owners can follow, however, to improve the quality of their sitelinks.
Best Practices to Improve the Quality of Sitelinks
Submit Site's URL : The first and foremost step is to submit the site's URL to Google and as many search engines as possible.
Use Google Webmaster Tools : It helps to improve and understand the site, connect with visitors, and find answers to crawling. Site owners can also check many SEO-related issues about the site here as well as "demote" an existing sitelink. Do this by selecting a site profile and clicking "Sitelinks" inside the "Configuration" section.
Remove Broken Links : If the site is a WordPress blog, site owners can try Broken Link Checker plugin or  try Google Webmaster Tools. Removing broken links helps substantially.
Repair HTML Errors : Since Google wants the site to be clean and tidy, site owners should remove all the HTML error tags and codes. Try the W3C HTML Validation Service.
Repair CSS Errors : Similarly for CSS errors, remove all the problematic styles. To check and validate the errors, try the W3C CSS Validation Service.
Revise and Refine SEO elements : The blog should have good keywords, title and meta description. If it's a WordPress blog,  try All-in-one-SEO-pack.
Write More : Unless the blog has some articles it is impossible to get sitelinks. Each blog should have at least 3-5 pages and 10-15 posts.
Boost Your Page Rank : If the blog has a sufficient number of back-links and Page Rank then it will easily get sitelinks. It creates a good impression.
Take Advantage of Internal Linking : Interlinking the blog articles means linking words or sentences to previously published posts or pages. Doing so will help to increase page views, retain readership and arguably add credibility to your content by citing other work.
Use Proper Hyperlinks : Try the Permalink Redirect Plugin to check the current URL against the permalink WordPress has defined for the post, page or category, and redirect it to that permalink if there isn't a match.
Know Your Platform : Both WordPress and Blogspot are well optimized, but Google indexing prefers Blogspot over WordPress blogs.
Trust the Circle : If a site gets a lot of traffic from search engines, this will factor into future placement among search results, creating a circle. Such traffic will also be an indicator to Google that Sitelinks will direct users with more granularity to content they're seeking. The blog should have high click-through rates. Owners should even optimize blog images for search engines by ensuring all images have ALT tags.
Supervise Site Uptime : The blog should have a consistent flow of traffic to get Google Sitelinks. If the traffic sources are organic (from Search Engines), then owners will see a better response from the search for attaining sitelinks. If uptime is inconsistent, traffic and furthermore response from Google will suffer.
Allow Your Blog Time to Grow-up : Some experts say a blog should be at least one year old in order to get sitelinks. However, www.era404.com's sitelinks were updated almost immediately after our relaunch.
Keep Your Navigation Simple : Blogs should have a well-written and simple navigation system, consistent throughout all pages of the blog. Try to have a <ul> and <li> list of links at the top of the blog. Put the navigation links in these tags and ALT text for each anchor. Make sure the anchor text is relevant, concise and not repeated through the navigation. Google also considers title tags (<h1>) of the corresponding pages and how well these titles match the anchors in the navigation.
Write Quality Content : Site owners that update blogs with quality content on a regular basis are more likely to see matching, updated sitelinks.
Embrace Categories and Tags : A blog's sitelinks may also be a category page or a tag page. As such, attribute every article with related categories and tags (e.g., Press Releases, News Articles, Information Resources).
Avoid JavaScript and Images : Using JavaScript and images in the navigation menu/labels may prevent blogs from getting sitelinks.
Foster OffSite Linking : If site owners want an article, a page or a category page to get featured in sitelinks, it should be linked from other websites. The more external links these pages have, the greater the chance of it being featured as a sitelink. But quantity isn't the only factor. Links to your content from well-regarded websites (those with higher page ranks) will have greater influence over how your site is featured among results in the same or similar keyword communities.
Choose Popular Homepage Links : Consider 4-8 links on your homepage that point directly to the articles and pages preferred for sitelinks. Keep concise and succinct anchor text for each. The WordPress Popular Posts Plug-in does an excellent job of featuring those posts that are getting the most traffic, and promoting them on the home page.
*USE A SITEMAP* : This is a MUST for every blog. Keep a clean sitemap and include all the links displayed on your homepage in the sitemap. Make sure they are indexed and submit the sitemap using the Google webmaster tool regularly. Again, plug-ins make this process painless and give you quality sitemaps every time new content is published.
Get Organized and Stay Organized : Each blog should be well structured so that it will be easy for the Search Engine bots to identify the blog's content, how it is found, and how relevant it is toward the site's purpose.
Reconsider the Site : If web owners are unsuccessful in achieving their preferred sitelinks, even after applying these tips, they can request Google reconsider the site. This option is available in Google Webmaster Tools and only requires a convincing and polite message to Google administrators.
Permalink: https://www.era404.com/info/25-tips-for-optimizing-a-blogs-google-sitelinks/