www.era404.com Site Relaunch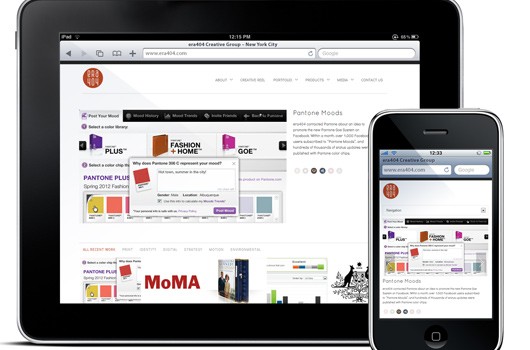 NEW YORK CITY—ERA404 Creative Group, Inc., the New York design, development and strategy studio, is pleased to announce the launch of its newly revamped website, portfolio and client portal.
The new www.era404.com showcases selected work from the past decade of business and is part of a strategy to reposition themselves as leaders in multi-disciplinary creative and forward-thinking development. The site features an online portfolio, creative reel and dozens of other HD videos that make use of HTML5 and browser-native players, eluding the requirement of plugins for Adobe® Flash and Apple® Quicktime videos. Each page of the site is saturated with social media options (Facebook, Twitter, Pinterest, and Google Plus) and the site has been re-engineered to be optimized for search engines, RSS feeds, Facebook OpenGraph, mobile (and tablet) devices and responsiveness to multiple browsers/platforms/resolutions.
"For years, we've been helping our clients to embrace new technologies and audiences through emerging social media," said Technical Director, Mike Citarella. "It was long overdue that we put into practice these beliefs, internally."
The previous version of ERA404 was launched in 2005, before the boom of social media giants like Twitter and Pinterest and rejection of browser plug-ins (such as Adobe® Flash) for mobile and tablet devices. The new site tailors content to whatever device users prefer. But technology wasn't the only consideration for the relaunch.
"[www.era404.com] embraces our updated aesthetic and philosophical beliefs much better than it has in the past," said ERA404 Creative Director, Don Citarella. The company re-imagined their public image (ERA404 rebranding press release, stationery, creative reel, and typeface initiatives) to help direct their vision for the future of the studio and its work. "It's much easier for prospective clients to see our multi-disciplinary expertise and drill directly into the type of work that interests them, be it: print, identity, strategy, environmental, digital, or motion design."
ERA404's new site and work can be viewed by visiting: www.era404.com from desktop, mobile or tablet devices.
Permalink: https://www.era404.com/press/era404-com-site-relaunch/