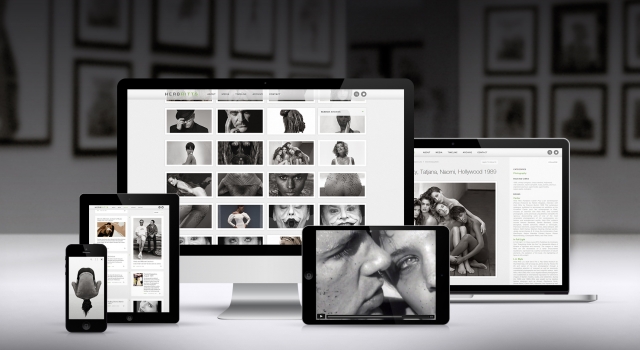 Los Angeles—HERBRITTS.com features the largest collection of the late photographer's work online, while offering the opportunity to explore every aspect of his career.
Dozens of editorial examples, advertising tear sheets, book spreads, and museum installation photos mixed together demonstrate how Ritts' work embedded itself into popular culture.
In addition to producing portraits and editorial fashion for Vogue, Vanity Fair, Interview and Rolling Stone, Ritts also created successful advertising campaigns for Calvin Klein, Chanel, Donna Karan, Gap, Gianfranco Ferré, Gianni Versace, Giorgio Armani, Levi's, Pirelli, Polo Ralph Lauren, and Valentino among others.
The site features an interactive timeline of Herb Ritts' life. For the first time, visitors are able to see examples of Ritts' directing work including award-winning music videos and commercials. Further insight is offered into the Foundation's history and mission: to advance the art of photography and support HIV/AIDS causes in a manner that reflects the spirit and values exemplified by Herb Ritts during his lifetime.
Designed and developed by ERA404 Creative Group, the site allows visitors to conduct advanced searches through Ritts' vast archives and follow the Foundations social media presence.
Herb Ritts' iconic images have been exhibited in museums worldwide, including hugely popular exhibitions at The Museum of Fine Arts, Boston and The J. Paul Getty Museum in Los Angeles.
(via HerbRitts.com)
Recommended Links
CEO of The Herb Ritts Foundation
To Whom It May Concern:
The craft of web design may be relatively young but its importance can no longer be overlooked. Over the last few years we interviewed many designers and realized how difficult it was finding someone who not only understood the clean simple style of Herb Ritts' work, but could offer the technical skills we required. ERA404 immediately understood what we needed and was capable of taking us to the next level with our web presence. Don Citarella's (ERA404 Creative Director) ability to design a site that had Herb's aesthetic sense was apparent right from the beginning. He also understood that as a private Foundation we needed a site that was easy to navigate and as informative as possible.Read More
This month, The Herb Ritts Foundation redesigned herbritts.com to better promote their main two objectives: to continue Mr. Ritts' longstanding support of HIV/AIDS research, and to support his great passion for photography and other forms of art.
Erik Asla, Ritts' former photo assistant and creative consultant to The Herb Ritts Foundation, knew launching a site of this capacity would be a major undertaking. "The challenge was in finding a design/development firm that properly understood our vision as far as imagery, content and design was concerned," said Asla. "I find too many web sites reflect the tools of the web designer rather than concentrate on the message and content of the web site owner." It was important to find a firm with this understanding before beginning the redesign. "ERA404 got in touch with me and, as we discussed web design, we found each other to be on the same wavelength."Read More